Sarcoma Awareness Month is observed annually every July. The term "sarcoma" is used to describe a large group of malignancies that emerge in the soft tissues and bones. Soft tissue sarcoma develops in tissues including muscle, fat, blood vessels, nerves, tendons, and the lining of your joints that unite, encircle, and support other body structures. There are 70 variants of sarcoma and treatment is dependent on the condition, where it is located and other considerations.
The history of sarcoma awareness month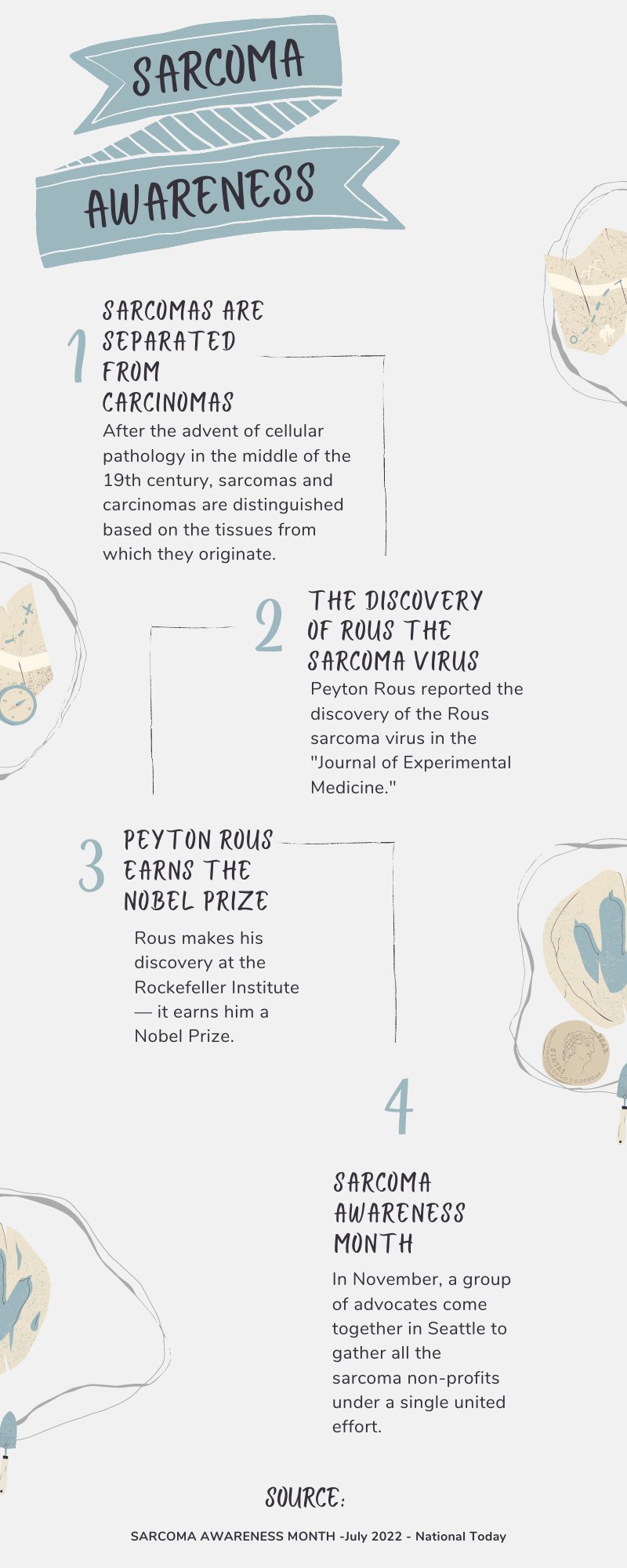 There are two types of sarcoma- soft tissue sarcoma and bone sarcoma. Soft tissue sarcomas are a group of rare cancers affecting the tissues that connect, support and surround other body structures and organs. Tissues that can be affected by soft tissue sarcomas include fat, muscle, blood vessels, deep skin tissues, tendons and ligaments. Soft tissue sarcomas can develop in almost any part of the body, including the legs, arms and tummy (abdomen). Cancer that begins in the bone is called a bone sarcoma, often known as primary bone cancer. This type is uncommon and accounts for just 0.2% of all cancer diagnoses in England. In the UK, there are 500 diagnoses annually on average. Any bone in the body can be affected by bone sarcoma, although the legs are the most frequently affected.
If you have a lump that you can't explain, you should visit your doctor. The majority of lumps and bumps that people experience are not cancer. However, it's advisable to have it examined.

A lump has a higher chance of being diagnosed as sarcoma if it:

-is large (e.g., greater than 5 cm broad) or expanding
-is deeply rooted in biological tissues.
-is painful
-appears when you are older
-has returned following a prior operation to remove a sarcoma
For early-stage soft tissue sarcomas, surgery is the major form of treatment. The tumour and a portion of the surrounding healthy tissue are typically removed. By doing this, it is possible to eliminate all cancerous cells. Every attempt will be made to limit how the procedure will impair the affected body part's appearance and functionality. However, there is a chance that following surgery you'll find it challenging to use the affected body part, and sometimes another round of surgery may be required to correct it.

Bone sarcoma surgery frequently entails a thorough removal of the tumour. A wide excision involves the surgical removal of both the tumour and a margin of healthy tissue all around it. When possible, methods are used to preserve the arm or leg if the tumour is in an arm or leg. Sometimes, this is referred to as "limb salvaging" or "limb sparing." However, it is occasionally essential to amputate, which is the removal of the arm or limb that the tumour is on. This is dependent on the size and/or location of the tumour.
Need advice regarding medication that your doctor has prescribed? Call us on 0161 222 6190 to speak to one of our pharmacists. For free delivery of your medication to any address in England, register on our website or give us a call to register.
Cancer Research
National Today
Sarcoma UK